Projekt menedzsment gyártási és építészeti projektekben
Az ESONIC Inc. cseh vállalat a technológiai foylamatok és termelőegységek ipari automatizációjában érdekelt. A belső és külső projektmenedzsment szükségletek ellátására szükségük volt egy ilyen szoftverre.
Original conditions
Several tools were used in the company. The software (ISO) that was developed within the company didn't meet all the requirements. Especially it did not cooperate sufficiently with the accounting software ABRA FlexiBee. There was also a lack of a comprehensive solution that would facilitate the management of business processes and projects.
Requirements
The main requirement of the company ESONIC was a connection between the tools ISO and FlexiBee so both software would communicate effectively with each other.
Additional requirements:
Location on its own server (on premise)
Helpdesk for customer requirements
Attendance monitoring
Use of printouts
How was the process of implementation done?
Linking of Easy Project and the accounting system FlexiBee and IS ISO
It wasn't the first case of connecting Easy Project to an existing system of a client that we dealt with (this service is offered standardly). But it was the first time that we connected the ABRA FlexiBee. If Easy Project is connected with corresponding software for the first time then it leads to the creation of a standardized procedure. This process serves as a "best practice" in linking the same system for other clients.
Communication between software tools is via XML, and REST API which enables real-time synchronization.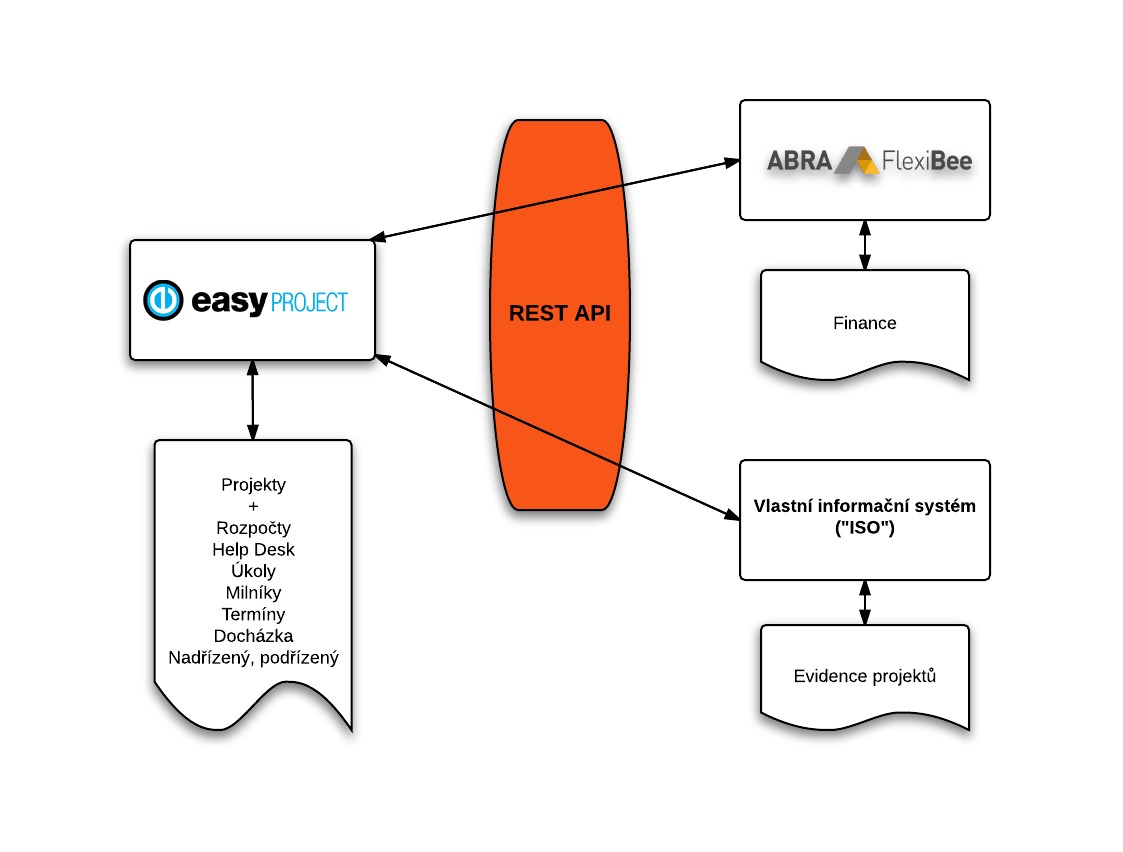 Easy Project has a comprehensive program interface and can be easily connected to all systems that allow communication via API.
REST API allows the following operations: reading, creating, editing, deleting. Documentation of Easy Swagger (Easy Project API) is here.
The program interface allows operations with the following entities:
Tasks
Projects
Project Templates
Time record
Users
User groups
Costs and revenues of the project (planned and actual)
Attendance
Contacts
Business cases (CRM)
After Easy Project implementation
By linking the Easy Project software to ESONIC, they can monitor all financial transactions that pass through the FlexiBee system. Thanks to the REST API the required information will also get to the ISO information system. By connecting previously used systems, Easy Project increased process efficiency and improved company operations.
Used plug-ins
Printouts
Project management Integration into accounting and ERP - connecting accounting via REST API
Help Desk
Attendance
Calculation of projects and price offers
The installation of other plug-ins was carried out in a standard way.